The acquisition of Open Mesh by Datto and the associated change in the original business model has left all long-standing Open Mesh customers unprepared and with open questions.
Therefore we are happy to present Plasma Cloud, a successor that offers all important Open Mesh features:
free cloudmanagement (plus fee-based extra services) & affordable

Hardware (pricing similar to open mesh)

high usability

white label solution

The short period of time between the announcement in October 2018 and the discontinuation of operations in December 2018 and the associated uncertainty about the further use of Open Mesh hardware and Cloudtrax made a quick solution necessary. This was where the experience and contacts that the team, some of which had been Open Mesh employees for many years, was able to contribute to the development paid off. And even though not all products and all features will be available at the beginning, the long-term goal of Plasma Cloud is to completely replace the Open Mesh product line from hardware to cloud.
Hardware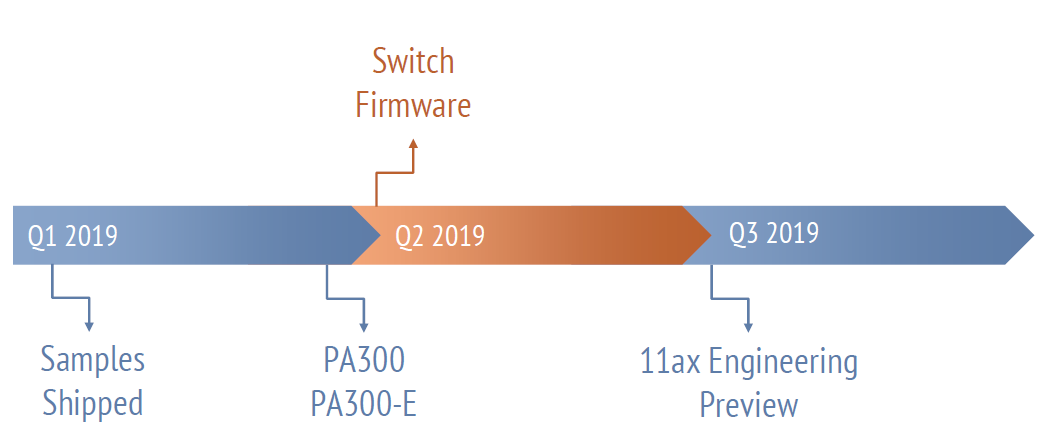 Initially, three access points will be available, the PA300, PA1200 and PA2200, replacing the OM2P, A42 and A62.
The PA1200 and PA2200 are proven dual-band and tri-band access points. They transmit simultaneously on the 2.4 GHz and 5 GHz band. The PA1200 also has an outdoor enclosure certified to IP55.

The PA300 offers a 2.4 GHz dual stream and thus a higher data throughput than the OM2P. It is also supplied in the PA1200 housing and is therefore also suitable for outdoor use. In addition, this model is also produced with two external antennas, which can be replaced by any external dual-stream antenna of your choice (point-to-point/sector/etc.), further increasing data throughput.

Access Points Specification
PA300
PA1200
PA2200
Radio chains / streams
2.4GHz : 2x2
2.4GHz : 2x2
5GHz : 2x2
2.4GHz : 2x2
5GHz : 2x2 + 2x2
Antennas
2.4GHz: 3.0dBi
2.4GHz : 3.0dBi
5GHz : 5.0dBi
2.4GHz : 5.0dBi
5GHz : 5.0dBi
Frequency
2.4GHz
2.4GHz + 5GHz
2.4GHz + 2 x 5GHz
Data Rates
300Mbps
300Mbps + 867 Mbps
300Mbps + 867 Mbps + 867 Mbps
Physical Interface
2 x 100 Mbps Ethernet ports
1 x 802.3af
1 x 24V passive PoE
1 x DC Jack
2 x 1000Mbps Ethernet ports
1 x 802.3af
1 x DC Jack
2 x 1000Mbps Ethernet ports
1 x 802.3at
1 x DC Jack
Standard
802.11b/g/n
802.11ac/a/b/g/n
802.11ac/a/b/g/n
Dimensions
142 x 142 x 34 mm
142 x 142 x 34 mm
200 x 200 x 45 mm
Switch Specification
| | | | | | |
| --- | --- | --- | --- | --- | --- |
| | PS8-L | PS8 | PS24-L | PS24 | PS48 |
| 10/100/1000 Mbps Ports | 8 | 10 | 24 | 24 | 48 |
| 100/1000 Mbps SFP Slots | / | 2 | 2 | 4 | 4 |
| PoE Budget | 55W | 150W | 250W | 370W | 740W |
| Switching Capacity | 20 Gbps | 24 Gbps | 52 Gbps | 56 Gbps | 104 Gbps |
| Mounting Options | Desktop & Wall mount | Desktop & Wall mount | Desktop-, Wall- and Rack mount | Desktop-, Wall- and Rack mount | Desktop-, Wall- and Rack mount |
| Power Supply | external | internal | internal | internal | internal |
| Dimensions | 239 x 104 x 28 mm | 330 x 229 x 43 mm | 439 x 257 x 43 mm | 439 x 257 x 43 mm | 439 x 409 x 43 mm |
Software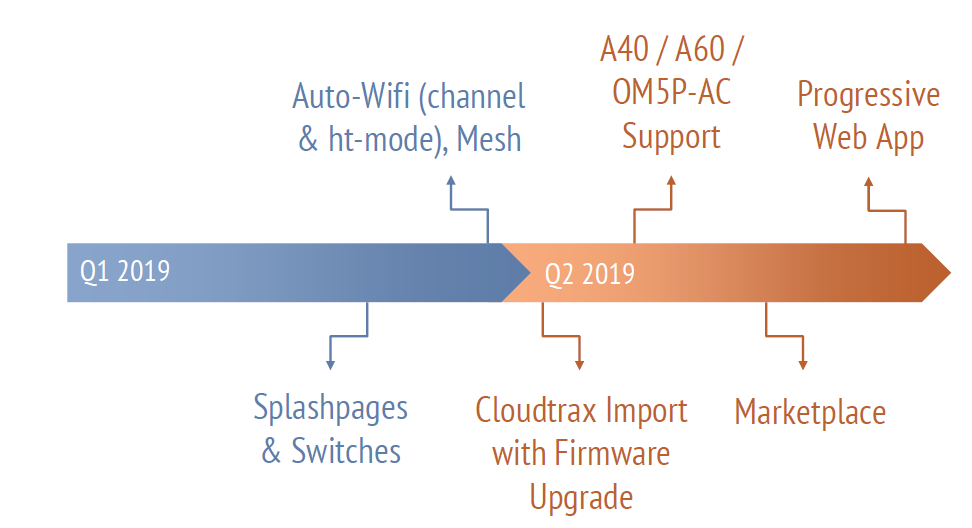 The new Plasma Cloud Dashboard enables the deployment, scaling and management of WLAN networks from anywhere, anytime. As the design is strongly inspired by Open Mesh's Cloudtrax, the transition will not be a problem for existing customers. For new customers, a minimum learning curve has been set so that they will also find their way around quickly.

Plasma Cloud strives to continuously improve the dashboard and backend and to integrate more exciting features in the future.

The current version can be tested at https://console.plasma-cloud.com.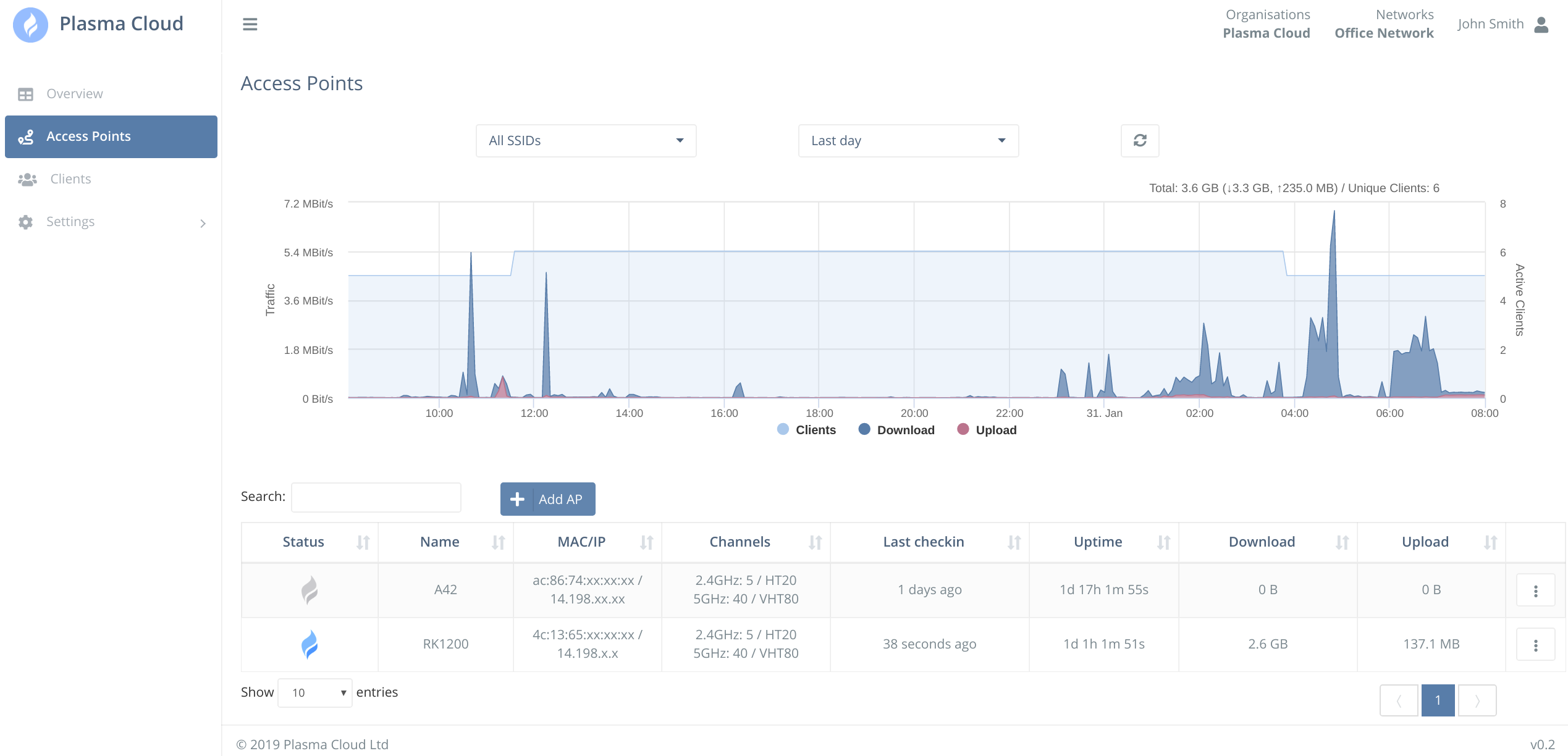 To make the transition from Cloudtrax as easy as possible, the following features are already available in the beta version:
Import of Cloudtrax networks with settings, APs and Splashpages
Support of Open Mesh hardware on Plasma Cloud after firmware upgrade (currently: OM2P, OM2P-HS, MR1750, A42, A62, S8, S8-L, S24, S24-L, S48; planned): OM5P-AC, A40, A60)
Grouping of networks in organizations managed under the same account
Simple network overview with map
Detailed APs and client tables sortable by SSID & time period
Interactive APs and client traffic diagrams that can show the usage behavior of the data in the last month.
Real-time AP online/offline status reports
Splashpage Editor
If you still have questions about Plasma Cloud or if you are interested in a test device, please get in touch.